Rainbow Chard and Radish Frittata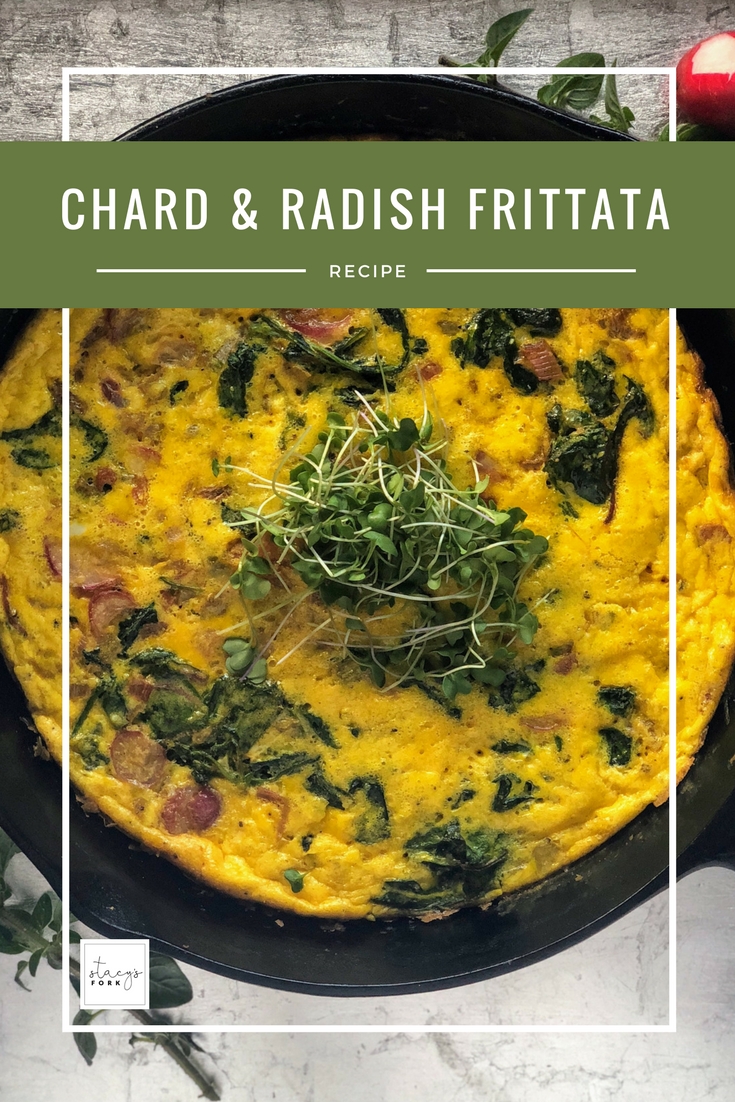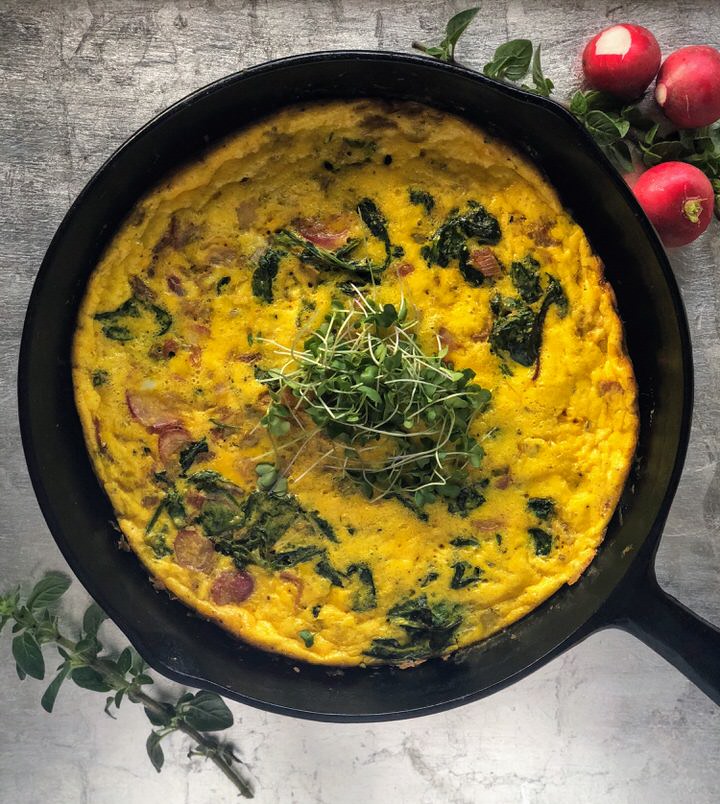 Frittatas are one of my favorite things to make - they are quick, easy, and perfect for using up the produce that's already in your fridge!
Think of this recipe below as a guideline. I encourage you to experiment with different greens, herbs, and vegetables. The only "rule" you need to remember is that "if it grows together, it goes together."
If you're using whole ingredients that grow in your region during the current season, you'll nail it every time!
The best way to find what's in season is to take a trip to your local farmers market or sign up for a CSA.
And pick up some farm-fresh eggs while you're there, they really do make all the difference and will give you this beautiful yellow color!
Rainbow Chard and Radish Frittata
SERVES 4-6
---
Ingredients:
Frittata
1 Bunch Rainbow Chard
1 Bunch Radishes
2 Spring Onions, chopped (or 1 yellow onion)
8 Farm Fresh Eggs
3 Tbsp Olive Oil
1 Tbsp Fresh Parsley, finely chopped
1 Tbsp Fresh Oregano, finely chopped
3 Cloves Garlic, minced
1/4 Cup Pecorino Romano, grated (you can you parmesan or omit entirely)
Salt and Pepper, to taste
Instructions:
Preheat oven to 350 degrees.
Separate the chard leaves from the stem with a sharp knife. Tear leaves into smaller pieces and chop the stem into 1/4" thick pieces. Set aside the leaves and chopped pieces into two different bowls or piles.
Separate radishes from their tops. Thinly slice the radishes and add with the chard stem pieces.
Heat olive oil in a cast-iron skillet over medium heat, add onion, and sautee until they start to soften - about 5 minutes.
Add the chard stems and radish slices to the skillet and sautee for another 3-4 minutes.
Add the chard leaves, garlic, and fresh herbs to the skillet. Sautee for another 3-4 minutes. Reduce heat to low.
In a large bowl, lightly whisk eggs with pecorino, salt, and pepper to taste.
Pour egg mixture over the skillet and gently stir to evenly incorporate the vegetables and greens.
Return heat to medium and cook until the edges of the eggs are set - about 5 minutes.
Transfer the skillet to the oven and cook for 6-8 minutes.
Remove from the oven and serve straight from the skillet with dressed greens or a big loaf of crusty bread.
Enjoy!