Spring Pea Pasta with a Basil and Spinach Pesto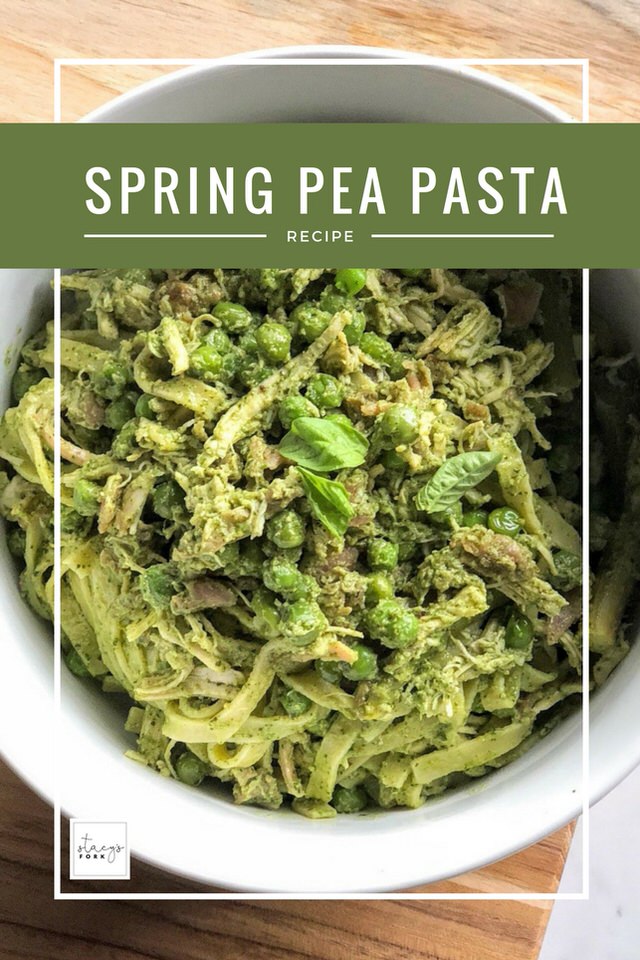 I've been thinking a lot about seasonality and reflecting on what to call the phase of life I am entering. I am starting a farm, launching a blog, celebrating another year older, and moving all at once. My mother would say welcome to adulthood.
I've decided I'm calling it a homecoming. It's a season of returning to my roots, both literally and figuratively.
I've always been a sentimental person but never did I imagine that the emotional nostalgia I felt for my upbringing would bring me back to the place that built me.
About eight months ago, Jim and I had briefly discussed moving into the farmhouse I inherited from my grandmother, Pat Stacy (you'll hear lots more about her later). I brushed off the conversation because I had always told myself I wouldn't move back to my hometown.
Before we knew it, we were making silent pros and cons lists and slipping "if we move..." into casual conversations.
Simultaneously, I was dreaming up a blog. A blog where I could tell stories, share recipes, and talk about agriculture.
While having coffee with a dear friend back in December, I was relaying to her this vision I had of starting a farm, honoring my family's legacy, and sharing it all through my blog. I'll always remember that moment. The moment it all clicked. I said, "I'm going to call my blog Stacy Fork."
(Stacy Fork, Kentucky is where my grandparents lived before they moved to Ohio to find work. My extended family still collectively owns so much land in that one region of Kentucky, that it is labeled Stacy's Fork on the map.)
I remember rushing home to Jimmy and telling him I didn't want to wait until "someday" to make this happen. These past few months, we've been laying the foundation for our vision, and I am so thankful to have a true partner in him.
Moving into the farmhouse my grandmother brought to life and turning these 28-acres into a working market-farm isn't a dream I knew I needed but thank God for homecomings...
And spring pasta! That's why you're really here.
Enjoy!
PEA PASTA WITH PESTO
SERVES 3
---
Ingredients:
Pesto Sauce:
½ Cup Kite Hill Ricotta (or regular ricotta, if not DF)
2 Cloves Garlic
¼ Cup Toasted Pine Nuts
¾ Cup Olive Oil
1 Cup Spinach, packed
1 Cup Basil, packed
Salt & Pepper to taste
Instructions:
Put the first 6 ingredients into a food processor or blender
Blend until smooth
Season with salt and pepper
Note: This will keep for up to a week in the refrigerator
Ingredients:
Pasta:
1 Cup Spring Peas
1 Bunch Steamed Asparagus, chopped into 2 inch pieces
1 Box Capello's Almond Flour Fettuccine Noodles (or pasta of your choice, prepared according to the box)
2 Oz. Prosciutto, chopped (optional)
1 Cup Shredded Chicken (optional)
1 Tablespoon olive oil
1 Cup Pesto Sauce
Salt & Pepper
Instructions:
Boil water for pasta
Add olive oil to a pan over medium heat
Add the prosciutto, peas, asparagus, and chicken to the pan
Add the pesto to the pan and coat the other ingredients until well mixed
Reduce to medium-low heat and cover for 5 minutes
Cook noodles
Add the noodles to the skillet
Season with salt & pepper to taste