Filet Mignon with Carrots, Radishes, and Ramps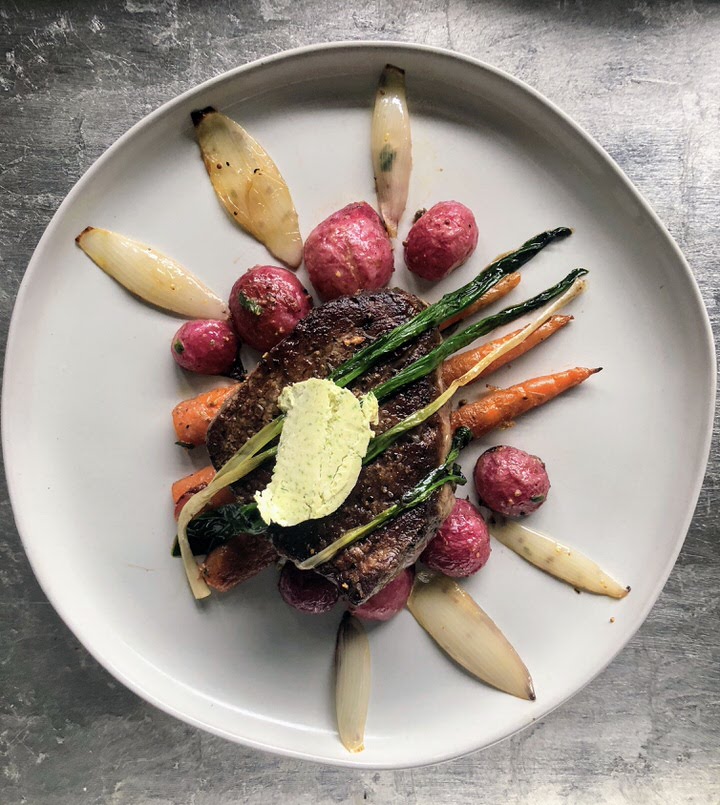 You guys loved this recipe so much on Instagram that it only made since to share it here too! The best part about this recipe is you can go from fridge to finished in 30 minutes! All you have to do is plate it up spiffy and no one will know how EASY it is.
Filet Mignon with Carrots, Radishes, and Ramps
SERVES 2
---
Ingredients:
Filet and Veggies
2 1 1/2" Thick Tenderloin Filets (or your preferred cut of beef)
1 Bunch of Small Carrots
2 Shallots
1 Bunch of Radishes
1 Tbsp Olive Oil
1 1/2 Tbsp Unsalted Butter, divided (or ghee)
3 Garlic Cloves
1 Sprig of Rosemary
1 Tbsp Sherry Vinegar
1 Tspn Whole Grain Mustard
1 Tspn Fresh Oregano, finely chopped
Salt and Pepper, to taste
10 Ramps
Ramp Butter - I recommend omitting the lemon juice
Instructions:
Preheat oven to 450 degrees and place a cast-iron skillet inside while it heats up.
Set your steaks out and blot with paper towels. Liberally season both sides of the steaks with salt and pepper.
Cut small carrots, shallots, and radishes in half lengthwise. Toss on a rimmed baking sheet with 1 tbsp olive oil, salt, and pepper. Put in the oven for 25 minutes.
Remove the skillet from the oven and place on the stove over med-high heat. Add 1 tbsp of butter to the skillet.
For Medium Rare, cook filets on the first side for 6 minutes. Flip and cook for another 5 minutes, leave in the pan.
Add 3 crushed cloves of garlic and 1 sprig of rosemary to the pan with another 1/2 tbsp butter and baste the steaks for another minute. 7. Remove steaks and let them rest for 5 minutes.
While the steaks are resting, remove garlic and rosemary from the pan. Sautee the ramps for 3 minutes over medium heat.
Remove veggies from the oven and toss with 1 tbsp sherry vinegar, 1 tsp of whole grain mustard, and one 1 tsp finely chopped oregano.
Plate and enjoy!
Optional: top with ramp butter