Bacon Ranch Pasta Salad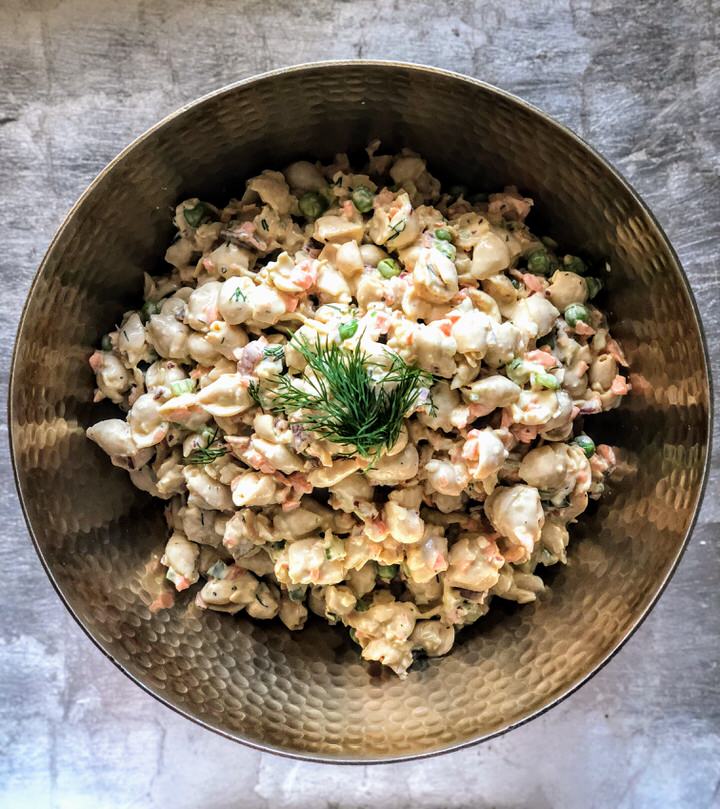 To be honest, not a lot of cooking is going down in my kitchen right now, and when it does, I whip up a meal using whatever we already have in the refrigerator/freezer/pantry to waste as little food as possible in the cleanout process.
It is all things moving for us with just one week until we officially settle into the farmhouse. We are beyond excited (and tired...and stressed...but mostly excited)!
Which means that our Memorial Day celebrations will look a lot like us eating lots of this pasta, grilling in our new backyard (reminding myself to add "buy grill" to our neverending Lowe's list), unpacking as many boxes as possible, and daydreaming about being at the lake.
How are you celebrating MDW? Hopefully with this pasta salad and something more fun than moving!
Cheers, friends!
Bacon Ranch Pasta Salad
SERVES 4
---
Ingredients:
Pasta Salad
1 8 oz. box of Banza Pasta (or whatever you prefer, if not GF)
1 Cup Mayo
4 Slices of Cooked Bacon, crumbled (omit, if vegetarian)
1 Large Carrot, peeled and finely diced
1 Celery stalk, finely chopped
1/4 Red Onion, finely diced
1/2 Cup Peas
1 Green Onion, finely chopped (just the green part)
2 Tbsp Fresh Parsley, finely Chopped
1 Tbsp Fresh Dill, finely chopped
1 Tspn Garlic Powder
1/2 Tspn Onion Powder
Salt and Pepper, to taste
Instructions:
Prepare pasta according to directions on the box. Drain and rinse.
Mix all ingredients together in a large bowl and refrigerate for at least 30 minutes before serving.